Hunter, angler, naturalist, traveler. These are just a few of the words that describe the writing and photography of Jack Ballard. "I'm deeply inspired by the work of Aldo Leopold. He was a masterful writer of descriptive prose, but was also exceptional for his ability to wed passions for hunting and fishing with a deep-rooted sense of conservation. He also possessed an insatiable urge to observe and understand the natural world around him."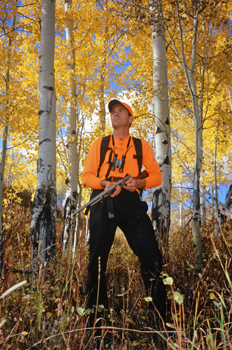 Jack's life reflects the attitudes of Leopold. On a typical autumn day you'll find him stalking elk in heavy timber in his native Montana or glassing for whitetails at dawn. He might be casting a dry fly to rising brown trout on a Montana river or hiking the sagebrush prairies in search of sharp-tailed grouse. All the while his senses are tuned to the larger world around him. "Some of my most memorable encounters with wildlife have occurred while hunting," he explains. "While elk hunting I once watched a bobcat hop onto an aspen that had nearly blown over. It padded along the trunk, then laid down to look around. Not too many people ever see a bobcat in the wild. That was the highlight of the fall hunting season."
Jack's authoritative voice on hunting and wildlife reverberates through the pages of numerous magazines and books. He is the author of Creating a Traditional Elk Camp: Where the Heart of the Hunt is Found and Elk Hunting Montana: Finding Success on the Best Public Lands. Jack penned a series of guidebooks (9) to various species of Rocky Mountain wildlife over several years. His latest two books are Wildlife Photography: Proven Techniques for Capturing Stunning Digital Images (2018) and Large Mammals of the Rocky Mountains (2018).
Fishing has been a life-long passion for Jack. His angling interests are captivated not only by the several varieties of trout in Montana, but extend to other regions and species as well. "I discovered fly fishing for bass and panfish on the lakes of New York's Adirondack Park several years ago. I'm a confirmed trout nut, but hooking a husky smallmouth on the Saranac River or fooling a largemouth on a lake rival the thrill of catching a big rainbow trout." He's also a fan of saltwater fly fishing. "Stalking and making the perfect cast to a redfish or snook in shallow water is as close as you can get to elk hunting in the timber with a fly rod." Jack regularly covers angling tactics and destinations for several magazine titles.
Wildlife conservation, the environment, and natural history are other trademark topics of Jack's writing. He is a frequent contributor to magazines published by state wildlife agencies and consumer publications in relation to such topics. Articles and photos devoted to paddling, hiking, alpine skiing, snowshoeing and leisure travel also characterize Jack's professional endeavors.
Jack's articles and photos have appeared in over 50 different regional and national magazines, along with books, calendars, posters and other media. He also works as an assignment photographer for educational institutions, conservation groups and other entities. His photos have been published in numerous books (Smithsonian Press, Heinemann Library, etc.), calendars and magazines. Jack has received multiple awards for his writing and photography from the Outdoor Writers Association of America and other professional organizations.