Don't miss this chance to purchase author-signed copies of any of Jack's books! Expand your knowledge of photography, wildlife or crafting a hunting camp!
__________________________________________________________
Creating a Traditional Elk Camp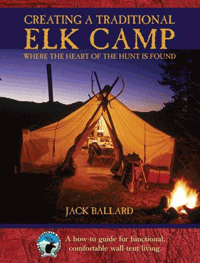 Endorsed by the Rocky Mountain Elk Foundation, this book is a comprehensive guide to planning and constructing a first-class, traditional hunting camp. Chapters include: Selecting a Tent, buying and using wood stoves, gear storage, setting up a camp kitchen, securing a water supply, horses and mules in camp, dealing with bad weather and camping safely in bear country. Jack is known for his informative, entertaining elk hunting articles. CREATING A TRADITIONAL ELK CAMP is blessed with Ballard's unique writing style from cover to cover.
Praise for ELK CAMP
Creating a Traditional Elk Camp is the definitive guide to planning and building a traditional elk hunting camp that is comfortable, functional and safe." — Colorado Outdoors "An entertaining, descriptive, instructional (and) useful book on how to build an elk camp with cast iron, canvas, a good privy, vehicle access and heart." — The Reel News "An eminently practical book." — Rocky Mountain News
Order your SIGNED copy of CREATING A TRADITIONAL ELK CAMP directly from the author for the discounted price of $22.00 + $3 S&H for U.S. orders.*
__________________________________________________________
Falcon Field Guide/Pocket Guide written by Jack Ballard – Now Available!
Authored by Jack Ballard, the Falcon Field Guide/Pocket Guide series presents readers with substantive yet easily digestible information on North American large mammals. What habitats do they occupy? What do they eat? What are the complex relationships between predators and their prey? How do various animals communicate with members of their own kind? What issues exist within the relationship between particular types of wildlife and humans?
These books contains all the information you need to know to become familiar with these fascinating animals.
Accompanied by numerous full-color photos of creatures in their natural habitat, these information-packed guides make an excellent reference for anyone interested in wildlife. Here's what some of the leading biologists in the nation have to say about Jack's books.
"A very informative, well written and balanced view of wolves." – Mike Jiminez, Wolf Management and Science Coordinator, US Fish & Wildlife Service.
"A very good summary for the layperson or anyone interested in black bears." – Dr. Chris Servheen, professor of wildlife biology, University of Montana, Grizzly Bear Recovery Coordinator, US Fish & Wildlife Service
"A great resource for those interested in the biology and conservation of this remarkable American icon." – Dr. Brendan J. Moynahan, Lead Wildlife Biologist, National Bison Range
Order your SIGNED copy of any book in the Falcon/Pocket Guide series – $13.50 each.
_________________________________________________________