Elk Camp
(c) Jack Ballard
Home is where the heart is," or so the threadbare but penetratingly truthful saying goes. Where one sleeps for the night may define his or her place of residence. The tiny space on a vast planet to which one is most emotionally connected more appropriately qualifies as home.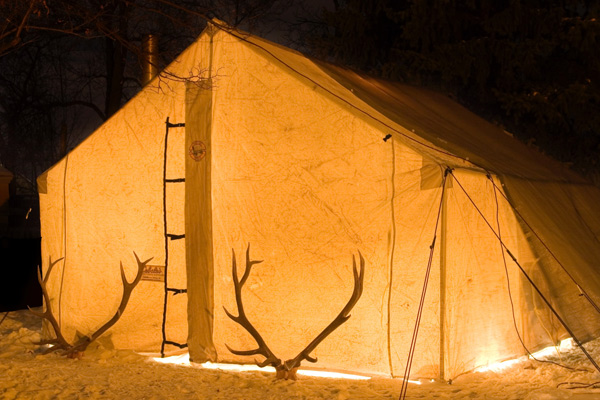 On the Thursday prior to the fourth weekend in October, I yearly depart the location described on various legal documents as my "physical address" to return home. The moving truck, laden with all the earthly possessions required for the relocation spins beyond the houses and lots of Red Lodge, past towering cottonwoods clinging to their last few golden leaves of autumn along Rock Creek, then westward through a range of hills covered in prickly ponderosa pines to Interstate 90. I'm anxious. Hours of work are left undone in the office. The 6 a.m. scheduled departure occurred just before noon. Even with a loaded pickup it seems imperative to inch the accelerator a wee bit beyond the speed limit.
At Whitehall, my course veers southward from the state's four-lane, east-west transportation artery onto ever-narrowing roads. It eventually terminates on a capillary consisting of little more than a two-track snaking across a broad bench above a winsome creek, a flatland dappled with sagebrush and flaxen grass, the humble threshold to a range of mountains whose windswept, lordly summits loom more than 10,000 feet above that 71% of the earth covered in ocean. By this time, the stress of a missed deadline and unreturned phone calls has melted in a chilly, evening breeze. Windows buried in the front doors, air rushes through the cab, bearing the distinct scent of sage and an occasional whiff of damp poplar as I chug through a fleeting copse of ashen aspens.
The "road" bends at a right-angle. Just east of the route lies another aspen grove, mature trees invitingly spaced just far enough apart to accommodate a tent. This is "elk camp." It is the place above all others I choose to inhabit at this season of the year, a sentiment shared by thousands of residents and itinerants who come from the likes of Gary, Indiana, and Pasco, Washington, to roam Montana's highlands in search of its most favored big game animal, the elk.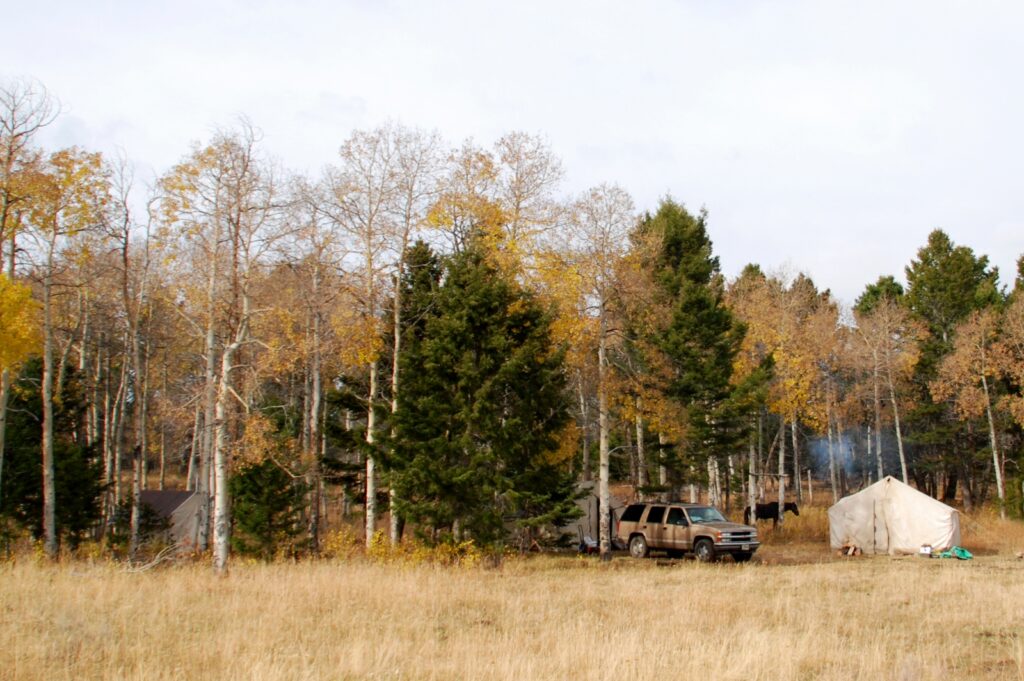 Camping is a concept with a host of interpretations, from well-heeled tourists cozied up in the interior of a motorhome with a purchase price $50,000 higher than the median residential home in the Treasure State, to a family of four happily bedded in one another's personal space in a budget tent impulsively purchased at a discount retailer. Some hunters pursue the elusive wapiti from the Spartan confines of a backpacker's tent. One fall, a trio of hardy youths backpacked from a trailhead some seven miles and 2,000 vertical feet below our camp. Their thin nylon tents were unwittingly pitched within a stone's throw of the road just below our wall tents, the intrepid newcomers unaware that a pickup might have as easily ferried their gear as their sweat-soaked backs. A vicious cold front and several inches of snow greeted them on opening day of the hunting season. By the time its daylight faded, they had departed to the warmer confines of their vehicles back at the trailhead. The enterprising threesome were camping and hunting elk. They did not have an elk camp.
In its finest and most traditional sense, an elk camp consists of one or more canvas wall tents, stalwart structures behind the fabric of which a social misfit or lover of solitude might pass an entire winter in comfort, so long as the wood supply held. Which brings us to another integral item in elk camp. The wall tent is warmed efficiently via seasoned lengths of pine and fir stoked into a wood-burning stove. Equipped with such a heater, humans in elk camp do not suffer in the cold, even when the thermometer reaches the overdrawn portion of the Fahrenheit scale. They sleep as comfortably as the city-dwellers in Butte or Billings, as the person to which the task of feeding the stove at 2 a.m. does not forsake his duties.
Ostensibly, the purpose of the elk camp is to facilitate elk hunting, the goal of which is most simply defined as killing an elk. But the camp likely plays a much more complex role in the lives of the hunters, at least in bivouacs with a long history, such as that which surrounds my family's camp. Just a couple of years into the third millennium, my uncle Tom celebrated his 50th consecutive year of hunting elk from the same camp, with the ridgepole of the cook tent fastened to the same wind-scarred pine.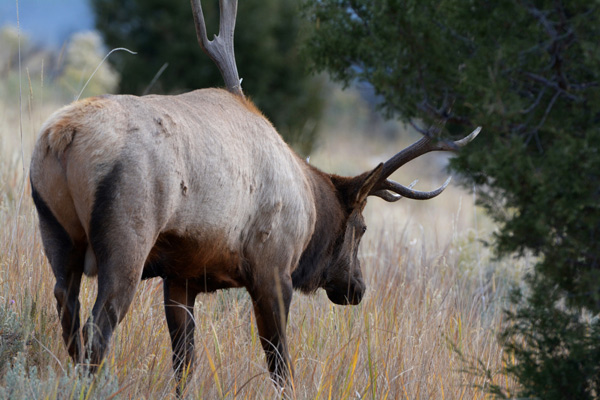 "That old guy must really be into killing things," a cynical soul of the non-sporting public might conclude. Such a simplistic conclusion ignores the fact that for at least the last decade before his silver anniversary, Tom spent precious little time hunting, preferring instead to hone his culinary skills in the camp kitchen and pass many precious hours reading, tinkering or surveying the broad, untrammeled view of a yonder mountain range perched on a folding metal chair outside the cook tent.
In his younger years, Tom brought many elk to earth, as did his brother, Jack, and my father, Dudley. The meat from those animals was shared and happily consumed by their families. By the time I first arrived in elk camp in the late 1970s, a passel of elder cousins accomplished as much of the elk taking as the patriarchs. Harvest was fickle. Some years might see a half-dozen or more carcasses carefully arranged on the meat tarps as the four-wheel drive caravan chugged slowly from the high country. Others brought the hunters home empty-handed.
Despite the variable nature of the harvest, one constant characterized elk camp. It was a male affair, though that dynamic is now changing with the arrival of my then fiancé in camp years ago, and the occasional presence of my daughter, a daddy's girl with a heart for hunting as large as her male relatives'. Elk camp connected man to man, relation to relation in a manner not maintained by Christmas and sympathy cards or attendance at the annual family reunion. As a teen sprawled contentedly on a tick of flannel in the sleeping tent, I sometimes caught snatches of late-night conversation from the cook tent, talk over a cribbage game of job stress, marital difficulties and challenges with children. I remember snippets of sage advice imparted by my elders at elk camp, passing tidbits such as a poignant reminder in a heated, but humorous exchange between uncles Jack and Tom in which the elder made the case that having friends at the end of a deal was preferred to profiting the most from the transaction.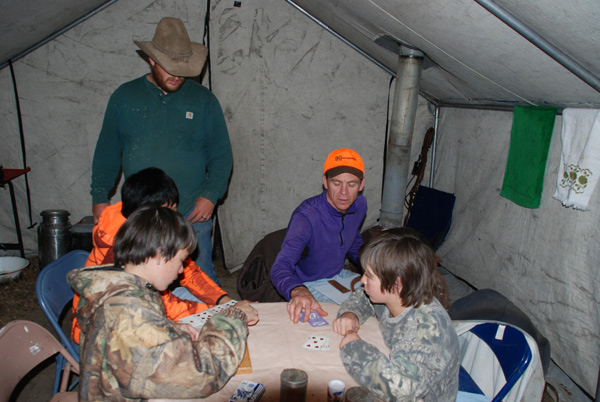 As a wide-eyed youth, I wondered at the skills of my forbearers as they efficiently pitched the camp, lashed halves of elk carcasses to riding saddles for packing and navigated confidently through immense, wild country that, despite its solace and beauty can easily kill a man. Now it is I who executes these functions, but in a different era, a time in which a call can be made from a cellular telephone from a ridge above camp and a GPS in the pocket offers reasonable assurance of returning to tent in a white-out or other situation of disorientation. Will my children, typical kids enthralled with a world of electronic amusements and communication maintain a connection to elk camp in the next generation?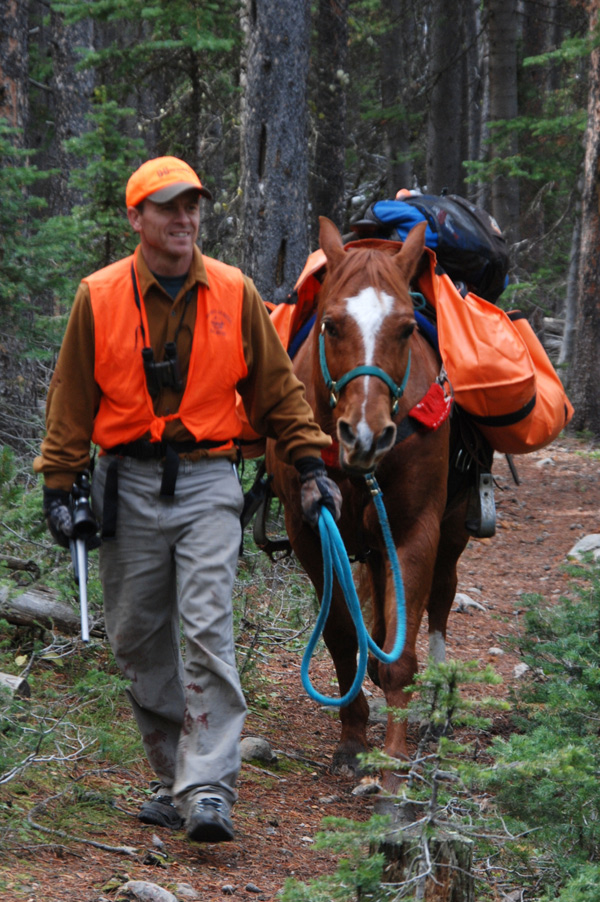 A line from an essay my eldest wrote in his Senior English class for an assignment in which students were required to create a lyrical accounting of a life "bucket list" says something of the near-magical attraction so many Montanans have to an elk camp. I discovered the essay by happenstance, buried in the "Documents" folder on my office computer some four months after his graduation.
"I never want to break old family traditions, such as elk camp," he wrote. Behind such words lies an assurance that elk camp will remain a cultural tradition, in this part of the world, for decades to come.